So, I've been wanting to participate in this little link-up for sometime. But I always find out about it a few days after it happens by reading my cousin's wife's blog (note: she hasn't linked up in a while, but her blog is still a great read!)
I promise myself every time I read her posts that I will remember to link up next week. In order to remember, I have to go to Google Reader and actually read E, Myself, and I's blog, which is a great blog by the way. I just don't have time never remember to read her posts. (Actually, I really don't have time. Who am I kidding? I'm a full-time working mom of two with a side business project).
So, this week, while shirking (or sherking) work and sifting through posts of blogs that I follow but somehow never get around to keeping up with, I came across Midweek Confessions, read it, enjoyed it, and realized that it was only Thursday and I could (technically) still sneak in there for a midweek confession post.
Here it is: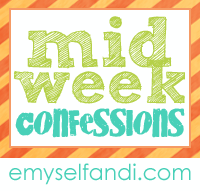 I let my kids have dessert after breakfast this morning (it consisted of several small respectable pieces of their broken hollow chocolate Easter bunny. His name was Peter. We said a few words over his body after breaking him and before eating him.)
In the wake of a change in daycare schedules, I have spent most late afternoons with my kids at the park. Good for my kids and me; not so good for my job. (But I'll get back to my schedule. Just gotta wait for the right timing with the babysitter.)
I haven't done as much writing as I would like. And my attitude is suffering for that.
Much as I love my daughter's artwork, I admit I got really frustrated with it scattered all over the house the other day, and instead of lovingly preserving each piece with a note about the events taking place in the picture and then tucking it safely away in the artwork filing system, I shoved it all in a reusable shopping bag and jammed it in the overflowing art cupboard. (I promise I'll deal with it properly (and lovingly) this weekend.)
That's it. I'm sure there are many other horrible and horrifying things I could admit to, but this is a family blog so I've gotta keep it clean (no, I did not kill anyone, cut their bodies up into tiny pieces and "preserve" them in my freezer.)
Why don't you link up, too? Or wait until next Wednesday and do it on time instead of late like me?